Getting Into Warhammer 40K, Part 3: Choosing Your Allies
Aaaand we're back with more Warhammer! Be sure to check out Part 1 and Part 2 to get the full picture.
Some Warhammer factions play nice with others, like the Space Marines and the Imperial Guard. Others, like the Orks, don't really have natural allies among the main factions. In the case of Orks, it's probably because they're a mob of Cockney psychopaths who eat paste and mutilate corpses. Either way, most armies benefit from having some allies outside their faction.
Luckily, Warhammer has a whole host of smaller factions that can spice up your main army. Some of these factions are like rare seasonings that you sprinkle into your army (like agents of the Officio Assassinorum), while others are ghost peppers that become the centerpiece of your whole force (like an Imperial Knight).
If you're really in love with some of these factions (like Chaos Daemons), you can build whole armies based on them, though some require higher learning curves and allies of their own. Here's a general overview of what you've got to work with.
Genestealer Cults
Genestealers are the secret Communists everyone was afraid of during the Cold War: they sneak into manual laborer jobs in the Imperium (sometimes even the Imperial Guard) and quietly sabotage everything they can until it's time to overthrow the planet in the name of their Tyranid overlords.
There's actually two sides to the Genestealers: pureblood Genestealers and Genestealer Cults. The former are a special species of Tyranid that are sent to infiltrate society and begin producing human-like offspring, while the latter are groups of humans that have begun worshipping the Tyranids as gods and become genestealers through infection by another genestealer.
The Genestealers fill a very important role in Warhammer 40K by allowing Tyranid players to pretend that anyone would want to be friends with them.
The faction functions as a kind of hybrid between the Imperial Guard and the Tyranids, with strong melee capabilities and large numbers. Paired with their faction-unique vehicles (like tanks and mining drills) and extremely tricky ambush tactics, they're surprisingly flexible and tactical. Unfortunately, they're not too durable and their ranged firepower is generally lacking.
Chaos Daemons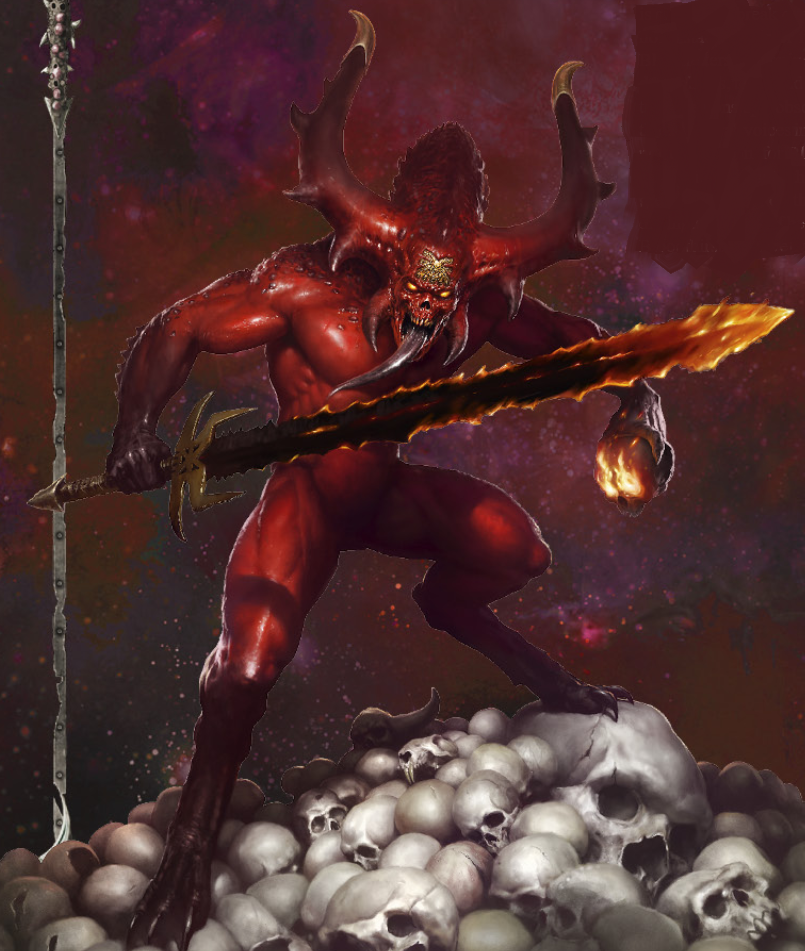 If you're playing a Chaos faction, the highlight of your day is probably summoning up a nice, spicy Daemon unit or two. If you're lucky, you get to slam a big, fat Greater Daemon on the board and start turning your opponent's day into a grade-A shitstorm.
In the lore, daemons are denizens of the Warp, the pseudo-mystical dimension that underlies reality. The Warp is influenced by the emotions, thoughts, and desires of the galaxy's many species, and since there's only war, cruelty, and death in the grim darkness of the future, that means the Warp is basically a roiling hellscape filled with beings who personify fear, deception, and rage. If you want to learn more about that, you can check out this article I wrote about the magic of Warhammer 40K.
Daemons are generally fun to play with and terrifying to deal with. The better ones can take a lot of damage, dish out a lot of pain, bring hardcore psyker abilities to the table, or a combination of all three. One of the hallmarks of Daemons is an Invulnerability Save, which gives them a chance to just shrug off damage. A lot of them have unique abilities, too–and they can be doozies. Here are some of the all-stars for each Chaos Faction–the Greater Daemons.
Khorne
This is a Bloodthirster. He is not a nice person. He likes to immediately get into melee range and turn his enemies into a fine, red mist. Bloodthirsters actually come in three flavors, so you'll have a chance to pick the right one to wreak the most havoc. Though Bloodthirsters have a stupid amount of wounds and great damage output, their huge size and the fact that they usually need to get up close and personal means they make for big targets on the board. Like Imperial Knights (keep reading), they're terrifying, but not invincible.
Tzeentch
This chicken-faced monstrosity is a Lord of Charge, and it's a beast when it comes to bringing psyker fury down on anything and everything, not to mention stopping other players from casting their own spells. It also has the potential to straight-up ignore enemy damage due to Tzeentch's love of invulnerability saves, so enjoy watching your opponent waste their firepower on your nigh-unkillable sorcerer abomination-thing.
Nurgle
Oh, the Great Unclean One. He moves like a garbage bag filled with pancake batter, but once he gets into melee range, things shift from "Wow, that's a particularly ugly pile of horse manure" to "Dear God, I have summoned an industrial-strength meat grinder with no off switch." In addition to dishing out obscene damage, he's incredibly difficult to kill and packs some nasty psyker powers.
Slaanesh
Unlike a Great Unclean One, the Keeper of Secrets moves fast. These suckers have such long-range threat potential (especially when charging enemies) that you can burn through units of enemy infantry before your opponent can maneuver around it. Though it can't soak as much damage as other Greater Daemons, it's easier to summon and just as terrifying to watch in action.
Not all daemons are quite as badass as these heavy-hitters, but they're still the bane of anyone not playing Chaos. Summoning a daemon unit is perilous–you have to roll dice to successfully summon one, and failure can mean damaging the summoner–but when it works, you'll have the smug satisfaction that only sorcerers can feel.
Adeptus Titanicus (Titan Legion)
Warhammer is a universe where whole planets are laid to ruin. Sure, you might be able to conquer a key city or secure a fortress with your army, but to reach the upper echelons of destruction that Warhammer promises, you need something bigger. Something like an Imperial Knight.
Knights are the giant mecha of Warhammer, and each one is packing enough health and firepower to wipe out most enemy squads by itself. They're flashy, they're powerful, and just seeing one being put on a tabletop is sometimes enough to tilt an opponent. They're just big, goddamn it.
There's two flavors of Knights: Imperial and Renegade, with the former allied with the Imperium and the latter siding with Chaos. Adeptus Mechanicus are especially good pals with the so-called Knight Worlds, and have bonuses to maintaining them in battle. As cool as they are, Knights are not invincible–some infantry Units with heavy weapons can pour on enough firepower to bring them down, and some dedicated anti-tank units can shred them surprisingly quick if you're not careful.
There is a level of sheer, apocalyptic destruction that dwarfs even Knights, but few players will ever get a chance to see it. I'm talking about a Titan.
Titans are essentially mechanical god-engines with the power to annihilate just about anything (at least in the lore). Their Void Shields mean they're impervious to most damage, and the amount of hits they can take is frankly ridiculous. They're the Tsar Bomba of Warhammer 40K, and extremely rare.
To get a sense of scale, consider that the Knight pictured above is about eight inches tall. The Titan pictured to the left is about two feet tall. Keep in mind, however, that Titans come in three classes: Warhound, Reaver, and Warlord, with the largest being the Warlord.
Knights and Titans are the super-heavies of Warhammer 40K, but all are expensive to buy and resource-intensive to put into your army (and paint). But damn are they awesome.
Grey Knights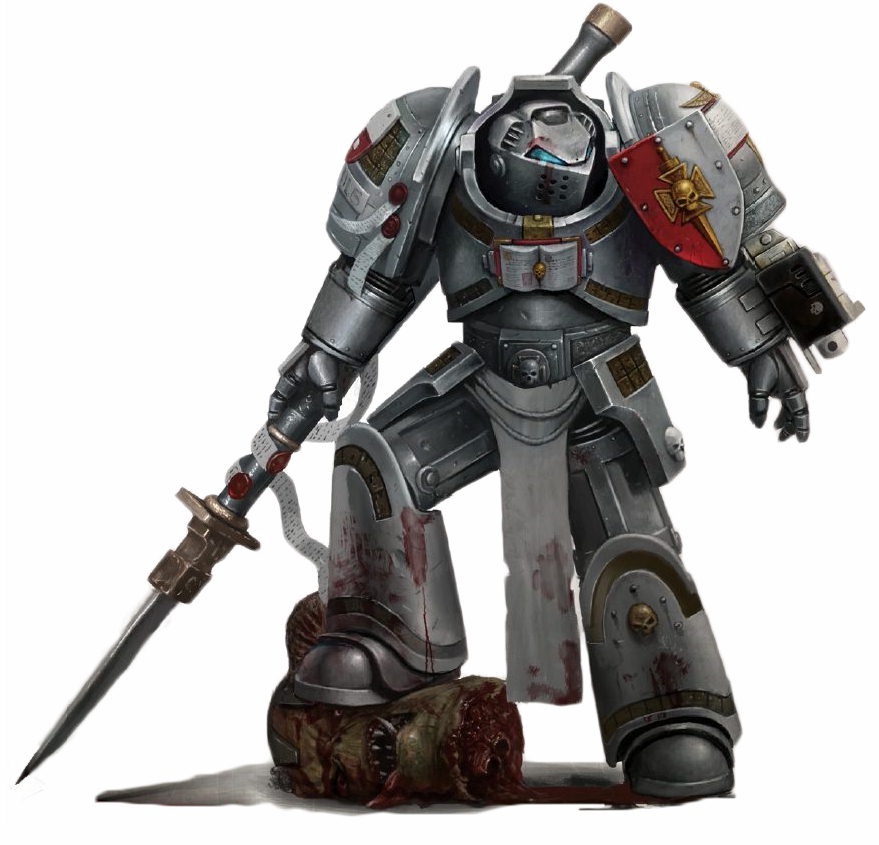 Before the Emperor of Mankind retired to the Golden Throne, he created one group of soldiers to protect the Imperium and give Daemons nightmares: the Grey Knights. These are the badasses that can backhand a Chaos Space Marine through a cement wall and blow a Daemon's teeth out the back of its skull with mind bullets.
Grey Knights are unique among the Imperium's forces for being almost entirely made up of Psykers, which are usually shunned or used only sparingly. On top of that, they're wheeling around some of the most powerful, high-octane weapons in the Imperial armory. Though they lack long-range damage, their combination of psyker abilities and mid/close-range damage makes them a wrecking ball, especially against psyker or Daemon-heavy armies.
Unfortunately, you'll only ever be able to field a few of these guys at a time, and losing even one can be a big blow. They don't have a lot of long range options, or much variety when it comes to units, so you're a bit limited in what you can do with them. Still, they look like beefcake cyborg crusaders, and that's fuckin' cool.
Adepta Sororitas (Sisters of Battle)
The Sisters of Battle are a group of murderous space nuns in power armor sporting flamethrowers and enough religious zealotry to make the Spanish Inquisition look like a children's Bible study group. They're part of the Ecclesiarchy, the religious organization at the heart of the Imperium, and their job is to spread the word and love of the Emperor…in the form of fire, destruction, and scorched Earth. The Sisters' main job is to root out heretics, fight the enemies of the faith, and defend Holy Terra (Earth) from any and all threats.
Sisters of Battle are carting around a similar arsenal to Space Marines, but they have a penchant for flame-based weaponry and badass vehicles, such as the Penitent Engines, which are essentially Sisters strapped to mechs. If you're looking for an army that really exemplifies the religious zeal of the Imperium, the Sisters have it in spades–they have access to special Acts of Faith, which are essentially divine interventions that give them crazy-cool buffs (like being able to have an extra turn of battle), and they're even divided into different religious orders with unique abilities, like the Order of the Bloody Rose.
The Adepta Sororitas are a pretty well-rounded faction, too–if you want to run only Sisters in your army, they usually have enough variety to cover all their bases, as well as some insanely buff Characters.
Weird Miscellaneous Orders (Imperial Allies & Agents)
The Imperium's list of allies is longer and more elaborate than an acceptance speech at the Academy Awards. Apart from all the different chapters of the Adeptus Astartes (the Space Marines), the Adeptus Militarum (Imperial Guard), Adeptus Mechanicum, (Machine Priests), and Adeptus Titanicus (Knights and Titans), there's a whole bunch of niche factions that you can recruit, ranging from badass Space Marine commandos to the 40K equivalent of witch-hunters.
Deathwatch
The Deathwatch are an All-Star chapter of Space Marines that recruit the best Marines from all the other chapters. Because they're the elite of the elite when it comes to Space Marines, they get a lot of kick-ass weapons and gear, specialized ammunition that allows them to adapt to the situation, and special tactics that give all of them passive buffs during the game. They've got advantages to killing alien enemies (they're essentially heavily armed exterminators), and they have a bunch of different units they can use to vary their composition. The downside? You'll only be able to field a small number of them, and they have a pretty steep learning curve for new players.
Officio Assassinorum
These guys are essentially the Imperium's resident Power Rangers, only geared more toward murder. In fact, each one comes as an individual model, rather than a squad. There's the Eversor Assassin, who is less of a silent executioner and more of a one-man woodchipper high on bath salts, the Vindicare Assassin, a sniper packing a rifle that hits with the same force as a train-mounted railgun, the Callidus Assassin, an infiltrator that starts the game with a hand-cannon to an enemy's head, and the Culexus Assassin, which is Freddy Krueger for enemy psykers.
Sisters of Silence
Related to the Sisters of Battle, the Sisters of Silence are the nuclear option when going up against psykers, especially when it comes to big, lumbering psyker monstrosities like Greater Daemons. They sabotage enemy psykers from afar, get bonuses to cutting those psykers down, and pack some pretty serious punch against anything else that gets in their way. When you bring along some Sisters, it means you're going to burn some witches.
Adeptus Custodes
If a regular Space Marine is a .38 Special and a Deathwatch trooper is a .357 Magnum, an Adeptus Custodes soldier (also known as the Custodian Guard) is a gold-plated elephant gun that breaks your shoulder every time you fire it. These are the melee monsters you call when you need to stop a Greater Daemon in its tracks. These are the elites you bring in to kill other armies' elites. Do they have psykers? No. Do you need to field more than a handful of them? No. That's because this is a faction of stupidly buff gladiators that eat nothing but protein powder and ten-penny nails, and they will ram their glorious, golden fists through anything can't outrun them. Then they'll chase down the rest in their shiny, 48-carat tanks. That's why these are the guys assigned to guard the Emperor himself.
That's what I've got for Part 3. Stay tuned for Part 4, where we start going over some of the basics of playing the game, including building an army and taking your first, wavering steps into tabletop tactics.